BIOGRAPHY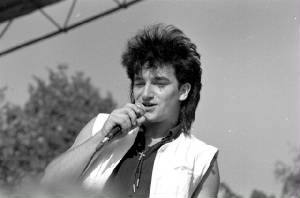 BIRTH NAME: Paul Hewson
(d-o-b May 10, 1960, Dublin Ireland)
PERFORMANCE NAME: Bono (BAH'-noh)
ORIGIN OF NAME: Paul was originally nicknamed "Bono Vox" by his friend, Guggi, a high school cohort who stole it from a hearing aid store on O'Connell Street in Dublin. Fittingly enough, the original moniker meant "good voice" in cockeyed Latin. Paul later shortened it to Bono, which remains his name to this day.
NICKNAMES/ALTER-EGOS: The Antichrist * (see below), Alton Dalton, The Mother Teresa of Abandoned Songs, The Sonic Leprechaun, The Fly, Mirrorball Man, Mister MacPhisto
BAND ROLE: lead singer/songwriter, sometime guitarist
OTHER OCCUPATIONS/INTERESTS: Activist. Screenwriter. Orator. Amateur thespian.
MARITAL STATUS: Alison Stewart (August, 1982)
CHILDREN: Two girls (Jordan, Memphis Eve) and two boys (Elijah Bob Patricus Guggi Q, and John Abraham)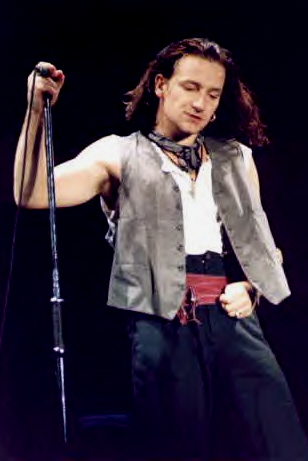 HISTORY:
Born and raised in Dublin, Ireland, Paul "Bono" Hewson is the second child of Bobby and Iris Hewson. His brother, Norman, is the oldest.
Described by Bobby as "a bloody exasperating child", Paul got a reputation at an early age for being both absent-minded yet argumentative...traits which earned him the unholy and ironic nickname "the Antichrist" from both family and friends.
At the same time, he was starry-eyed and wickedly curious...the kind of youngster who viewed the world through rose-colored glasses, while at the same time questioning what he saw.
The most notable example of this was witnessed by both Bobby and Iris Hewson when Paul was three-years-old, playing in their backyard garden: the couple watched with both horror and fascination as their toddler lifted honeybees off the flowers on his fingertip, talked to them, then put them back on the petals without ever getting stung.
At the age of 15, Paul suffered a tragic and devastating loss, when his mother died of a brain aneursym while attending the funeral of her own father. (It's this incident which many fans and writers alike speculate may be the reason Bono has such a restless and inquisitive nature).
During this time, Paul also found himself drawn to music and playing the guitar...absorbing inspiration from the music of such bands as Patti Smith, Thin Lizzy, The Ramones and Television.
In high school, Paul's natural gift of gab and flair for the dramatic allowed him to move within nearly every school circle, and to experiment with a variety of artistic mediums.
It was also during this time that Paul got his new name. Credit for this goes to his friend, Guggi, a high school cohort who stole it from a hearing aid store on O'Connell Street in Dublin. Fittingly enough, the original moniker meant "good voice" in cockeyed Latin.
In school, Bono was a popular kid and a half-decent student. He excelled in history, chess and art, was considered a good painter, and had many girlfriends who adored his romantic, sweet-talking ways...although it was the feisty, no-bull nature of his dark-haired sweetheart Alison Stewart which eventually got him to become a "one woman" man.
His greatest enjoyment, however, seemed to come from performing with a school theater troupe...during which he often could be seen on stage, singing.
One day in 1976, he answered an ad posted on a bulletin board at the Mount Temple Comprehensive School in Dublin, asking for anyone who was interested in forming a band to meet after school at the house of one Larry Mullen Junior.
With the younger, no-nonsense Larry serving as the talented drumming catalyst for the group's formation, the other members filled out what was to eventually become U2, one of the world's most memorable and famous rock groups: a gifted guitarist/guitar builder named Dave Evans, whose eventual nickname "The Edge" (by varying accounts) came from either the shape of his skull or his low-key personality; an amateur bassist named Adam Clayton, whose caftan coats, tinted glasses and use of such cool words as "gig" and "amp" made him seem like he knew more about music than he actually did; and finally, Bono...who couldn't play guitar or really carry a tune (yet), but whose earnest charm, intense poetic songwriting, and theatrical persona ultimately won him the position as the band's frontman and songwriter.
These traits are also what earned Bono and U2 their worldwide fame (and, at times, notoriety).
As the group's lead singer and lyricist, Bono has written songs which have taken people on spiritual journeys, turned them on sexually, or inspired them to change.
At the same time, he has repeatedly flogged himself in the press for not being a proper "pop star" and has continually expressed a desire to become a great singer. Yet his powerful voice has evolved and morphed over the years with a versatility rarely heard in most rock bands: at the start of the decade, it was a teenage croon full of longing and rebellion on such 80's albums as "Boy" and "War"; near the end, it was a throaty roar full of anger and passion on "The Unforgettable Fire," "The Joshua Tree," and "Rattle and Hum."
Though he is known as a socially-conscious songwriter who has tried to inspire crowds with his lyrics, Bono is a rarity in that he also tries to connect with them physically during a performance. The best example of this was seen by millions during the 1980's...especially the Live Aid concert in 1985, when (mid-way through an epic rendition of "Bad") he leapt off the stage, over a security barricade to the floor of the arena, and pulled a woman from the crowd to dance with her.
In the 90's, when U2's political earnestness ultimately threatened to turn them into a caricature (due mostly to Bono's often politically-charged, on-stage sermonizing), the band vanished into Berlin, Germany to remake itself with a new sound.
Having a full appreciation for the Brechtian and surrealist origins of rock performance, the lead singer followed suit...and altered his own earnest image into something more cyberpunk. With the help of band stylist "Fighting" Fintan Fitzgerald, Bono stylized his once-brown shoulder length hair into a jet-black coif, donned a pair of bubble-eye wraparound sunglasses, and slid into a skin-tight leather suit to become a funkified banshee called The Fly, a cool phantom hoodlum who howled amid the dark electronic flash and shash of the band's watermark album, "Achtung Baby."
This character --part Jim Morrison, part Lou Reed and all trash -- begat other characters who appeared onstage during the band's worldwide Zoo TV tour: the Mirrorball Man, a glittering tribute to televangelists all over the world...and Mister MacPhisto, a gold lame-suited cross between the devil and Elvis all wrapped up in the frame of a broken-down soul singer during his final Vegas days.
During this time, Bono also established himself as having a gift for lionizing others, as evidenced by his moving induction of both Bob Marley into the Rock 'n Roll Hall Of Fame, and his lifetime achievement tribute to Frank Sinatra at the 1994 Grammy Awards. More recently, he gave Bruce Springsteen an equally-memorable induction into the Rock 'n Roll Hall.
Unfortunately, the rigors of touring and the strain of singing night-after-night took a severe toll on Bono's pipes...especially during the group's monstrous Popmart tour in 1997.
Having picked up the bad habit of inhaling the cheroots he puffed on the Zoo TV tour, Bono became a full-fledged smoker while on the road; a habit which, combined with a severe sinus infection, had a disastrous effect on his voice...which he lost on more than a few tour dates, particularly the band's history-making show in Sarajevo.
Fortunately, after the tour, he was admitted to the hospital to have the problem corrected and has since quit smoking, after doctors told him it would permanently damage his singing.
Weeks after the surgery, he was in the studio recording and performing with his band and other artists, such as soul singer Kirk Franklin and rapper Wyclef Jean.
Beyond U2, Bono has extended himself to other projects and causes, and has emerged over the years to be both a social animal and an activist...and has rallied numerous actors, artists and activists to his cause...most recently, his bid to end Third World Debt as spokesman for the Jubilee 2000 project and Netaid. Bono was recently presented with the Free Your Mind Award at the MTV Europe Awards held in Dublin, Ireland, in acknowledgement for his work on behalf of the Jubilee 2000 project to end Third World Debt. After receiving the award from Rolling Stones lead singer Mick Jagger, the clearly-humbled singer humorously remarked: "This is only going to make me worse."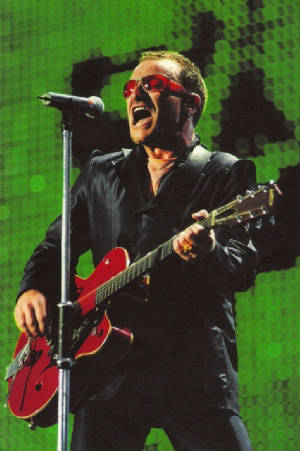 When he wasn't crusading for the poor, Bono spent the latter part of 1999 composing and performing music for "The Million Dollar Hotel," a new Wim Wenders film starring Mel Gibson, which he wrote with the help of screenwriter Nicholas Klein. Bono will also make a brief appearance in the movie. It is his second film role, having previously appeared as himself in "Entropy," an indie flick made by "Rattle and Hum" director Phil Joanou.
Today, he counts --and has counted-- among his numerous acquaintances and friends such names and faces as Brian Eno, Luciano Pavarotti, Sting and Trudie Styler, Quincy Jones, Tina Turner, Bjork, President Bill Clinton, Jack Nicholson, Mohammed "Mo" Sacirbey, U-N Secretary General Kofi Annan, Frank and Barbara Sinatra, Bruce Springsteen, Salman Rushdie, Sean Penn, David Bowie, Van Morrison, Sir Bob Geldof, Phil Joanou, Johnny Cash, Billy Corgan, William Gibson, and Muhammad Ali.
Despite the obvious privilege of his lifestyle, Bono continues to display a generosity and genuine nature that is impressive to both friends and fans alike...the kind of person who could work a roomful wealthy socialites, then stop to chat with fans on the street about music, and then be seen giving cash handouts to the homeless.
While Bono has a home near Nice, France - near The Edge's 'summer home' - and an apartment in New York city. He and his wife, Ali, continue to make their home in Dublin with their four children.